Lauren Bonner: Artist & Advocate
Posted: Feb 16, 2021
Lauren Bonner was still in high school when she painted the mural that playfully leads the way into the new Bear Family Foundation Center For Hope at the Studer Family Children's Hospital at Sacred Heart.
Always artistic, she had focused more on performing as a 10-year member of the Pensacola Children's Chorus. Lauren didn't start painting until her junior year of high school.
"I fell in love with everything about it," she says. "I just knew that's what I wanted to do."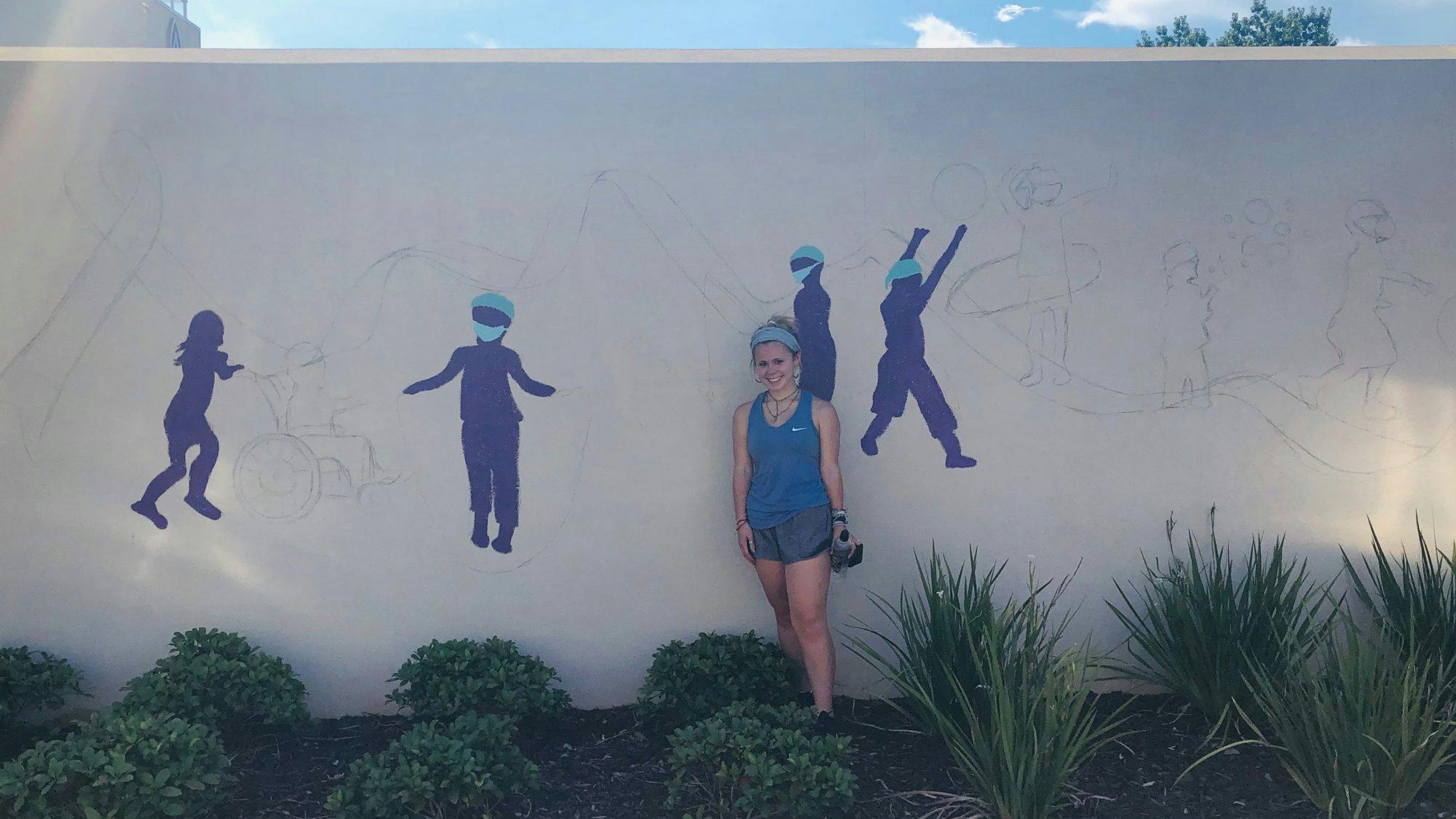 So, when she was asked to create the mural, it was a perfect fit. The granddaughter of Belle and Lewis Bear, Lauren has been working alongside her mother Cindi Bear Bonner to raise awareness for childhood cancer since she was a little girl.
"I look up to my mom and I just see the great things she does for kids with cancer " she says.
It all started when Lauren was in the fifth grade and her neighbor, Carolyn Hendrix, was diagnosed with Ewing's Sarcoma at just four years old. Lauren's mom helped build the Facebook page Praying for Carolyn, and that is how the Bonners met other families whose children were also fighting childhood cancer.
Today, Cindi runs the Pensacola chapter of Rally Pensacola, an extension city for Rally Foundation for Childhood Cancer Research. Lauren has had the opportunity to host events, attend vigils and she even lobbied on Capital Hill in Washington, D.C. to be a light to families in the darkest days of their lives.
"People think childhood cancer is rare, but it really isn't," Lauren says. "It's the No. 1 disease killer of children in our country."
That's why it was so meaningful to her to make the Center for Hope a bright spot in a bleak moment. "I think it's important to help people smile. We are lucky to have the Children's Hospital because it gives families the ability to stay in Pensacola, together, during the cancer treatments and not have to travel to other hospitals," she says. "There are siblings and jobs, and it is important for everyone to have some normalcy at home with their family."
When she started designing the mural, Lauren focused on the innocence and happiness of childhood, tying in the symbolic childhood cancer Gold ribbon and the kite of the hospital logo. (Everyone's favorite therapy dog Sprout is there, too.)
"I wanted to create something that would make every person who walked by it smile. The ribbon traces the wall above children hula hooping, flying a kite and throwing a ball … I wanted them to see kids playing."
Now in her first year at the prestigious Savannah College of Art & Design, Lauren is proud to have been a part of the Center for Hope – and she hopes to continue mixing her passion for raising awareness and making art.